Starting a business after school
Professional conduct:
Appearance, neat and clean clothes, combed hair, shaved
Language, no profanities, no loud or vulgar conversations
Make and keep appointments. Call and reschedule if you cannot make the appointment
Be polite to customers and kind to their horses
Advertizing:
Search a livestock section of local newspapers
Apply to Guest Ranches
Work with professional farrier
Apply to Cattle Ranches
Riding Stables
Racetracks
Halter and show barns
Hunter and jumper barns
Salary:
Wranglers at guest ranches – starting salary $8.50 – $10.50 per hour
Working with professional farrier – starting salary $85 – $100 per day
Working for your own business – could make up to $65 per horse, depending on the area. Four to five horses per day @$65 = $325 for that day. If you are in an area where shoeing a horse is $85 per horse, you could make up to $425 per day.
Horses need to be shod every six to eight weeks. It's a clientele buildup.
Required Inventory:
Shoes, nails, and pads
Huge Hoof-Care Market
Reprint from American Farriers Journal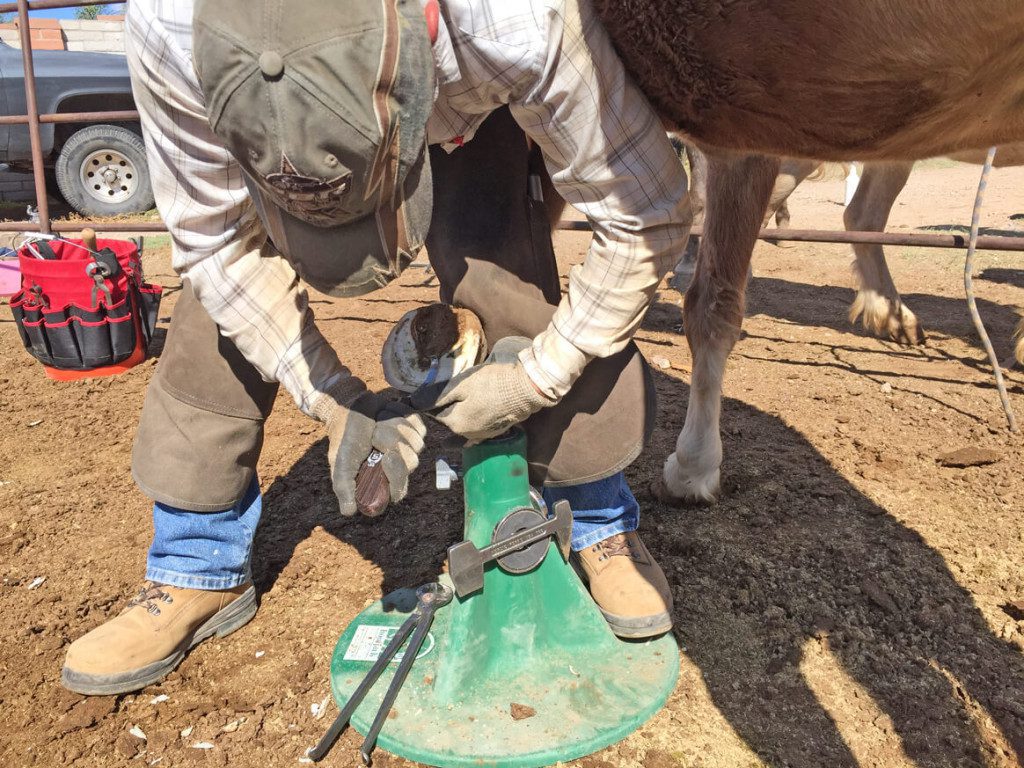 The latest American Farriers Journal "Farrier Business Practices" survey shows the typical full-time farrier handles 1,710 trimmings and/or shoeing and earns $103,598 in gross income while working with 285 horses and 133 different footcare clients during the year.
More than 9 million horses live in the US. Most are trimmed and/or shod a number of times each year. Yet few owners are willing to take on this backbreaking task and responsibility for themselves.
Each year, more than 2 million horse owners call upon hoof-care professionals to properly prepare the most complex part of the horse's anatomy – the foot.
Among horse owners, American Horse Council data show 74% own two to nice horses while 12% own 10 or more horses. Their data indicate owners spend an average of 22 hours per week with their horses. Some 28% of horse owners earn more than $100,000 a year.
The equine industry contributes $38 billion to the U.S. economy, and foot care is an essential part of this overall contribution.
An American Farrier Journal survey indicates many owners spend over $1000 each year on foot care for each of their horses and much more dollars on all type of equine products that are recommended by farriers.
Besides the name products and services used in trimming and shoeing, farriers are also deeply involved in recommending and selling feed, supplements, hoof boots, dewormers, hoof supplements, leg wraps, hoof-care dressings, conditioners, general horse care products and many other products to horse owners and trainers.
285 Horses Per Farrier
Data from the 2014 American Farrier Journal "Farrier Business Practices Survey" indicates the typical full-time farrier deals with 285 horses a year. He or she handles 1,710 trimmings and/or shoeings each year while dealing with 133 foot-care clients.
Some 85% of farriers play a key role in influencing the sale and promotion of hundreds of equine-related products.
150 Farriers Visits For 20-year-old horses
A 20-year-old horse may have seen a farrier as many as 150 times during its lifetime. This represents a foot care expense of nearly $16,000 during the horse's life.
Farriers are horse owners themselves, which dramatically increases their influence when it comes to recommending equine products. The typical farrier (and his other immediate family) who subscribes to AFJ owns, boards or train nine horses.
Farriers have distinct views on just about every aspect of equine care and see immense value in recommending new ideas and products – both for themselves and their clients.
Over 90% of farriers say they've bought products based on reading about them in American Farrier Journal.
As a result, you can see why AFJ is definitely considered the voice of the equine foot care business.
| Region | Trim 4 Feet Only | Trim, Set 4 Keg Shoes | Trim, Reset 4 Keg Shoes | Trim, Make/Buy & Set 2 Bar Shoes | Trim, Set 4 Keg Bar Shoes | Trim, Make & Set 4 Handmade Shoes | Repair Typical Hoof Crack | Extra Cherge for 2 Pads/ Packing |
| --- | --- | --- | --- | --- | --- | --- | --- | --- |
| NATIONAL | $37.96 | $108.80 | $103.22 | $111.79 | $156.16 | $166.17 | 50.94 | $31.59 |
| NORTHEAST | $40.39 | $133.74 | $122.93 | $120.50 | $166.33 | $199.00 | $64.05 | $29.76 |
| CENTRAL | $32.53 | $95.67 | $87.75 | $96.68 | $145.43 | $162.13 | $40.91 | $23.79 |
| SOUTHEAST | $35.74 | $107.68 | $105.06 | $113.67 | $153.97 | $161.85 | $47.18 | $33.79 |
| SOUTHWEST | $38.36 | $99.00 | $99.48 | $116.43 | $152.19 | $172.50 | $58.21 | $46.90 |
| WEST | $42.11 | $100.33 | $97.78 | $100.65 | $1151.52 | $149.13 | $53.65 | $36.30 |
| FAR WEST | $43.26 | $114.00 | $109.05 | $126.88 | $168.32 | $151.89 | $50.29 | $33.57 |