The Native American Horse Education Foundation...
…was established in August 2006 to help further the dignity and self-sustaining nature of Native Americans through farriery.
We offer 3-day and 2-weeks mobile courses, as well as 4-weeks and 8-weeks farrier courses.
We provide the knowledge of correct shoeing and its importance to health and performance, allowing for hundreds of dollars in savings enach year.
We offer the education on the importance of proper diet and foot care as it relates to the quality of life for all horses.
Farriery is a career which allows for a sustainable income with flexible hours and increased self-confidence, as well as the pleasure of working outdoors with animals.
Farriery is a combination of art and science that creates a critical foundation for all horses.
The Native American Horse Education Foundation is supported through donations and grants that provide scholarships to Native American youth and adults. Training is available on the reservation or it can be an outreach program.
To inaugurate the basic concepts of horse anatomy, hoof care, and minimize animal abuse whereas; youth ranchers and person who loves animals will have an insight into proper animal husbandry.
To teach the basic structure of the horse anatomy.Provide instruction for corrective shoeing.Teach correct use of various tools.Prove proficiency in real-life applications.
COURSES WE OFFER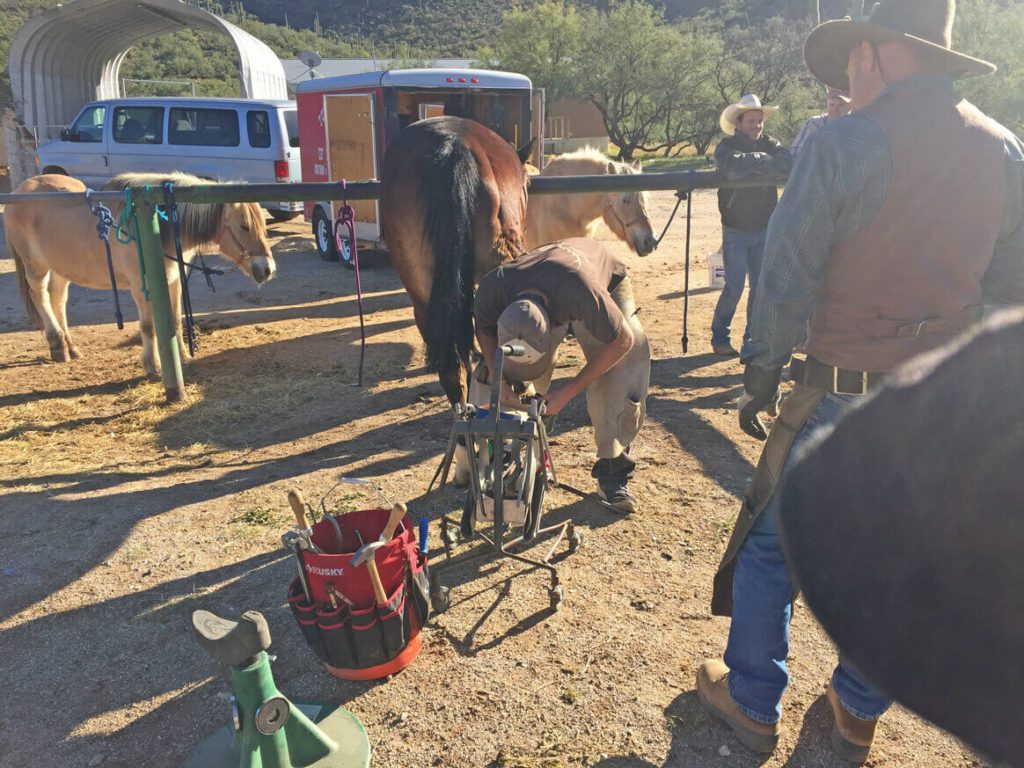 Two-week Course in Horseshoeing
Instruction includes shoeing the hoof, trimming, forge work, field work and hands-on experience with horses. The course is designed as an introduction to horseshoeing, and will provide the student with enough information to shoe their own horse.
Students are taught how to bend and shape shoes and to operate gas forges. Videos are used for proper demonstration of mule and horseshoeing, and includes safety procedures. Instruction includes field trips to various stables and shoeing of privately owned horses. The course covers: front shoe/ back shoe, rocker toe, swedge blocks and natural balance shoes.
Personal savings of at least $100 per horse each time you shoe.
Horses need to be shod or trimmed every 7-8 weeks or 7-8 times a year.
Farierry offers employment and entrepreneurial opportunities at working ranches, riding stables, farms, law enforcement agencies, and numerous other facilities where horses are essential.
TWO-MONTH FARRIER COURSE (8 WEEKS)
Curriculum which includes, learning hot shoeing horses, making and putting clip on shoes and natural balance shoes, and training for working with problem horses, plus many more advanced techniques and procedures involving all aspects of shoeing for qualification as a farrier.
Students also go on field trips to various guest ranches to shoe horses. They are required to hand make the following shoes; front shoe, block toe shoe with side clips, bar shoe, toe clip and outside trailer calk, & natural balance shoes.