Enrolling at Native American Horse Education Foundation
Individual Requirements
Native American Horse Education Foundation believes that prospective farriers should have certain characteristics and personality traits if they are to be successful. You need to like working with your hands, enjoy being outdoors, and love animals. You also must possess patience and determination.
Students must be able to read and write in English.
Students under 18 years of age must have signed approval to attend school from their parents or guardian.
Click on the button, print out the form, fill in and fax/mail to the N.A.H.E. Foundation.
What it takes to become a shoer
Physical Condition
Most of our students are in fairly good shape, considering that they have not done any horseshoeing before. We don't know of any exercise you can do to prepare yourself for shoeing. Most students' legs and backs get sore for about a week, but then there are no more problems.
Attitude
First of all, you need a fondness for horses. You must also like to work with your hands and to be outdoors. All of your work will most likely be outdoors.
Patience and even temperament are essential in handling horses. You need patience when a horse is not cooperating with you. You need the patience to find out what is wrong with the horse.
Even temperament means not striking the horse with your hammer or rasp when he will not let you shoe him, but keeping a cool head and using some sort of restraint like a twitch, war bridle, or sideline. Remember, 95% of horses are good to shoe, 5% are bad. Much more can be accomplished with gentle persuasion and kindness towards the animal than with abusive treatment.
General Information
Accommodations are the responsibility of the student.
Classes held daily, 8 am to 5 p.m. five days a week
Each farrier student will receive a Certificate of Completion for each course completed with satisfactory grades.
Required tools and accessories are provided by NAHEF and become the property of the student at the successful completion of course.
1 pair cutting nippers
1 rasp
1 pair pull-offs
1 pair clinchers
1 pair clinch cutters
1 hook knife
1 nailing hammer
1 apron
1 round hammer
1 pair dividers
1 foot gauge
1 textbook
1 equine leveler
1 hoof stand
Cost of these items: $1,800.00. Credit cards accepted.
All other equipment and supplies, such as benches, forges, anvils, vises, shoes and nails are furnished by the school.
Reasons for dismissal: Use of alcohol/drugs, foul or abusive language, unsatisfactory grades, refusal to carry out assignments, lack of attendance, or misuse of school property, stealing from school or other students.
Attendance and Probation Policies
It is not our policy to terminate the enrollment of any student. But for the good of each student and this class, the following rules must be observed:
Any student absent more than 4 (four) days, with 5 (five) tardies equaling one day, will be terminated. When excess absences are excused, each student may re-enroll in any future class session in order to finish the said course. Make up work will be allowed for all excused absences.
Any excessive abuse of rules, including insubordination, use of alcohol or drugs, or serious misconduct, will be cause for termination of enrollment.
Native American Horse Education Foundation observes the following holidays:
Independence Day
Memorial Day
Labor Day
Veterans Day
Thanksgiving Day
Christmas Day
Special Cases: In case of prolonged illness, accident, death in the family or other circumstances. The student can finish the course at a later date, which is convenient for him/her.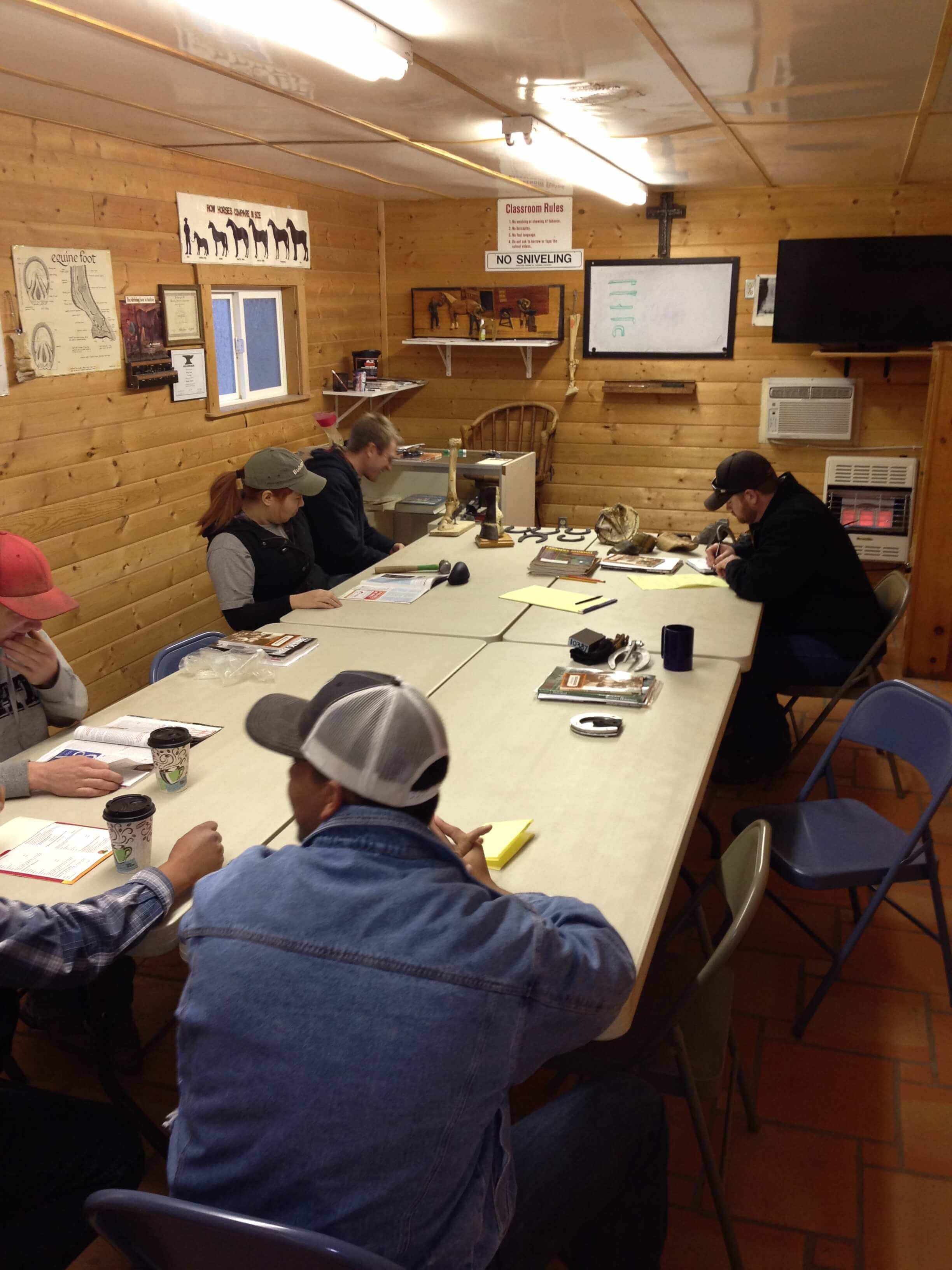 Grading and Satisfactory Progress
A minimum passing grade of 75% out of a possible 100% is required on all examinations and assignments. If a student scores below our high standards, we will work with him/her as much as needed until a passing grade is achieved. A student is dismissed by the school when it is clear that he/she is unable to satisfactorily acquire the knowledge and skills required to be a competent horseshoer.
Scoring as follows:
Shoeing Horse Test: 50% of grade
Forge Test: 25% of grade
Written Test: 25% of grade